The churches and Chocolate Hills were great and all, but let's be honest–there's not much that can compete against two inch tall monkeys.  I was super excited to see the little Bohol tarsiers from the second we started planning the trip.  I have an affection for strange, small creatures and our tour was filled with creatures of all kinds.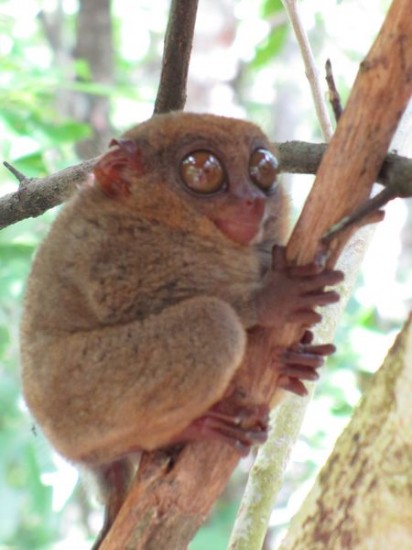 Tarsiers are funny little monkeys that are about 2-4 inches tall, but they can jump up to 5 meters.  You may wonder why you've never seen one in a zoo before, and it's probably because they don't do well away from their natural habitat.  In fact, tarsiers are known to commit suicide by beating their heads against things when they're taken from their home!  They're also so tiny and delicate that holding one can break their bones.  It's a wonder that they haven't gone extinct yet.  I'm glad they haven't though because they're so darn cute!  Bohol has a conservation park set up for the little creatures and that was the only way we were able to catch a glimpse of the nocturnal little guys.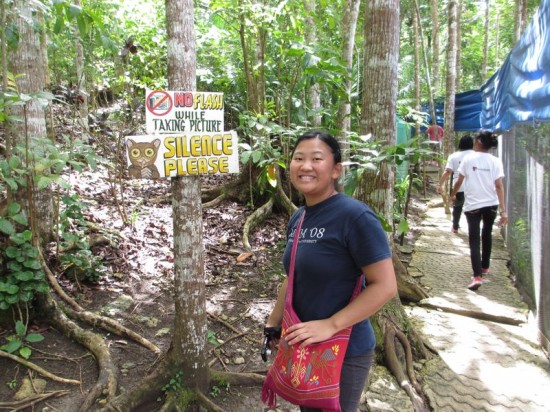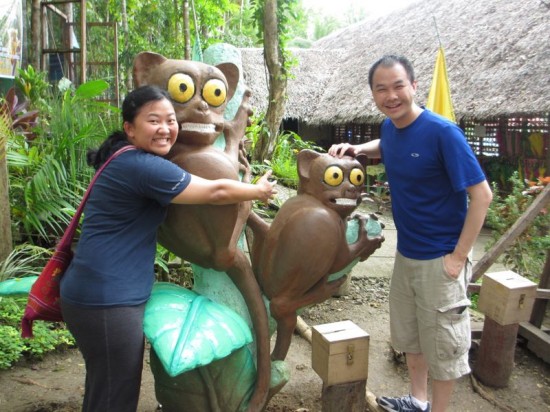 The next stop had me less excited.  We stopped at a butterfly pavillion of sorts.  As I've entered adulthood I've developed an irrational fear of butterflies.  They're just always fluttering around and have no idea where they're going and for some reason that really bothers me.  I was brave though, and when the tour guide placed the butterflies in my hair and hands I didn't scream or run or hurt any butterflies.  I don't think you can tell from my face, but I'm secretly terrified in the picture below.
Along the way to our next stop we saw these roosters outside.  The little huts made for them are made from recycled tires.  Sadly, these roosters are raised for fighting 🙁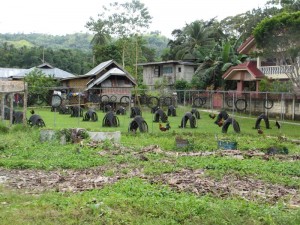 Our last creature stop was to visit this giant python that supposedly only eats pink piglets.  It's the largest snake in the Philippines. There were a bunch of other animals on display at the python park also.  I wasn't too thrilled to get close to the python, but once again I sucked it up and we went into the cage briefly to take a look and get a few pictures.  Gigi wanted me to touch it, but my bravery (and common sense) didn't extend that far.