I woke up early Sunday morning so I could make it to church on time.  I attended the Hyde Park Ward which meets on the same block as the Victoria and Albert museum.  Church was great.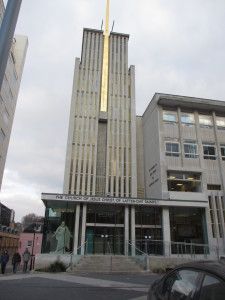 After church I headed to the V&A to check it out.  It was by far my favorite museum.  The thing I loved most about all of the museums I saw was that the buildings were just as interesting as the items on display.  The outside of the building had carved pillars and a magnificent entrance.  The ceiling inside was great too and there was a little bit of home on display there (Chihuly sculpture).
The exhibits were stunning.  I'm pretty sure you could spends weeks in this museum too.  They seemed to use every space possible to display items.
My favorite room in the museum was this gigantic room where items were being cataloged and stored.  The item I liked the most was this huge two-story pillar that was covered in carvings.  I guess I found it amazing because of the manpower it must have taken to finish and also I had no idea how they would have moved something like that.  I wish I had more information about where it came from!
Next to that large room was a room filled with stained glass from different eras, which I also really enjoyed.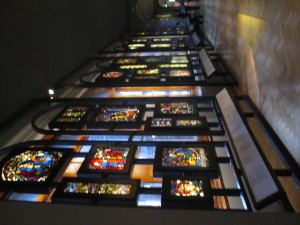 The museum has a huge fashion exhibit too with clothing from different eras and places in the world that was pretty neat.
My next favorite thing on display was this music room that was moved from this home in France.  Very cool.