After I wrapped up at the V&A Museum I headed to the Southbank to check out all of the attractions that were down there.  I had the best chocolate cake ever at a little café around the corner from the Globe Theater.  The Globe Theater tour was great, but next time I'll definitely like to go to the Globe for a show instead of for the tour.  I still think the tour was well worth it (especially since it was snowing and sitting through a show in the open air probably won't be so fun).  It was pretty impressive seeing the stage and the construction of the theater.  It was much more colorful that I expected.  They had everything setup for a modern version of Romeo and Juliet, but the stage is painted that color for all performances.
I walked along the Southbank to check out the Tower of London.  Along the way I saw the London Bridge, which was only a normal bridge.  The bridge I was expecting to be the London Bridge is actually called the Tower Bridge.  You can get a great view of it from the Tower of London.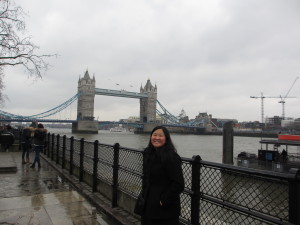 I really enjoyed the Tower of London, but I think I would have liked it even more if I knew more about British history.  The Tower of London has White Tower, which is a palace where lots of royalty once lived including Henry VIII and all his wives.  Anne Boleyn is even buried in the chapel there.  They also had the royal jewels on display there.  Lots of bling.
I spent about three hours at the Tower of London.  Since it was getting dark I decided to make a last stop at the National Gallery and Trafalgar Square.  I saw my all time favorite statue while I was there.  A merman riding a big dolphin and holding a small spouting dolphin in on hand.  Hardcore.
I got together with a coworker and we had dinner in a local pub.  Sunday roast with Yorkshire pudding (which isn't really a pudding if you ask me).