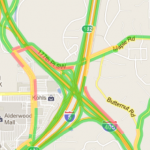 Another Black Friday has come and gone, and we have some stories to tell. The in-person Black Friday shopping was disappointing, but we got some sweet deals online (I'll talk about those at the end of this post). We wanted to buy some things from Wal*Mart, but apparently so did everybody else. The freeway was completely backed up from everybody wanting to go Wal*Mart. We were stuck in traffic for almost two hours. By the time we finally got off the freeway, we decided to just skip it. We were already an hour late for the store opening, there wasn't a single parking space in sight, and we didn't want to interfere with the rest of our Black Friday plan.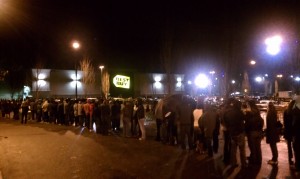 Our next stop was Best Buy. There must have been at least 1500 people in line. We were half an hour early and the line wrapped halfway around the building, through the parking lot, and all the way to the back of the Home Depot nearby. Again, we decided to ditch this plan and go on to our next store.
We went to Target where the line wrapped completely around the building and ended just about where the entrance was. We decided to stick this one out. Angela got a $15 leather jacket, some holiday tees, and cheap DVDs **cough**New Moon**cough**. I didn't want to be left out so I got some washcloths.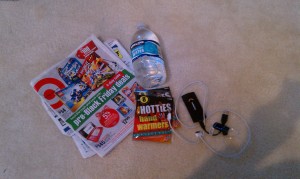 At Kohl's, we used a 15% off everything coupon to get a thermometer already at 50% off, slippers at almost 70% off, and some more clothes. We finished up at 1am and then headed over to Sears. Since Sears didn't open until 4am, we took a quick nap. Wow, did it get cold! We were prepared with hand warmers, beanies, blankets, and gloves, but we were still freezing. I guess we're getting weak in our old age.
When Sears finally opened, we got a free Christmas ornament, a jacket for $29 that normally sells for $150, and a snow man tie to go with my red pants!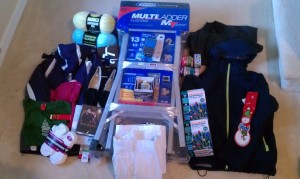 At Sports Authority, we got $20 of free gift cards. I got a new jacket and Angela got some snow pants for when we learn to snowboard this winter.
At Michael's we got free Godiva chocolate bars, 70% off ribbon, plus we had a 25% off stackable coupon. At Joann we got a bunch of yarn.
Half Price Books gives out free $5 gift cards every year. We used a gift card from last year, our gift cards from this year, and a 40% off coupon to get a book for only $3 that retails new for $50.
The stores' opening on Thanksgiving day really hosed us! It was way overcrowded and all the stores opened at the same times. Hopefully they don't do that next year.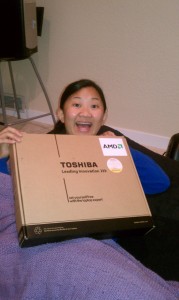 Our pre Black Friday and online deals on the other hand were great! Angela got a new laptop for $270 and Harry Potter and the Deathly Hallows for $4. We got a $200 xbox+Kinect, a $100 router for $50, and a Sony Blu-ray player with Google TV for $100 (normally $200). Also, I just ordered Call of Duty 4: Modern Warfare for our xbox for $7.