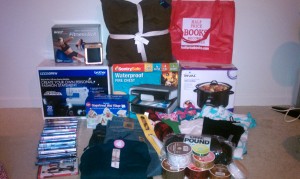 It's that time of the year again–deal time!! We decided to do a warm-up run before Black Friday just to brush up on our skills. Then we did our infamous Black Friday series; and we even added some more deals that we don't normally do: food! We actually didn't have anything we really wanted to get on Black Friday, so our main motivation was to maintain our reputation and to entertain our blog readers. Or because we're crazy.
Target Warm up
We went to Target a few days before Thanksgiving, just to scope out the store's floorplan and to get some early buys. We ended up getting four pairs of jeans for $9 (50% off), 12 packages of various sorts of candy for about $1 each, and 20 pairs of socks for $18!!!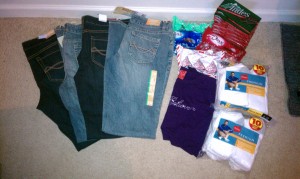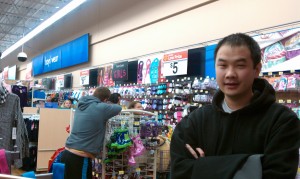 First Black Friday stop: Walmart
Walmart lets you enter the store early (but you can only make your purchases after midnight), so it wasn't too insane. I went straight for the end of the line, which happened to be in the nethermost corner of the store. Meanwhile Angela went to scavenge a boatload of DVDs (including the Bourne series, the Lord of the Rings series, I am Legend, and others) for $2 each, a $50 sewing machine (50% off), and a $20 safe (60% off). They were all out of carts so we had to carry all of our loot. We waited in line to check out for about an hour and a half. But it was okay, because there was plenty of Justin Bieber paraphernalia all over to keep us occupied.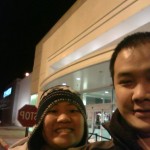 Waiting in the rain for an hour at Kohl's
We were rained on for most of the 1.5 hours we waited in front of Kohl's. But at least we were fifth in line! We got a slow cooker and a wallet and we were the very first people to check out.
Maneuvering through the swarms at Target
As expected, there were swarms of people buzzing throughout Target. I think Target was the least organized store of the day. There was a line to check out, but no employees or even signs to indicate which side was the entrance. As a result, tons of people were unknowingly (and some knowingly) cutting in line (we almost did too, until we realized that there was a line). After checking out, the exit doors were locked. When we asked an employee, she said it wasn't an exit; so we had to walk across the store to go to the other doors. As we passed by the original doors, we noticed that they had opened them and were then allowing people to exit.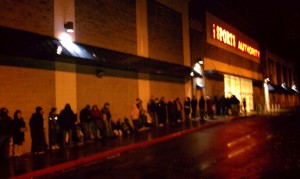 Surprise deal at Sports Authority
I wanted a $10 exercise ball at Sports Authority. Since we didn't anticipate exercise balls being a hot item, we planned on taking a nap in the parking lot. When we got there, we noticed an unexpectedly long line to get in. So we did what any normal person would do: forget about sleeping and get in the line before it got any longer! After we got in line, we found out that the first 85 people would get gift cards for $10-500 (randomly distributed). What a sweet deal! Free money! Angela and I both got the $10 cards. So I essentially got my exercise ball for free, and Angela got a swimming suit that ended up being a total of 58% off.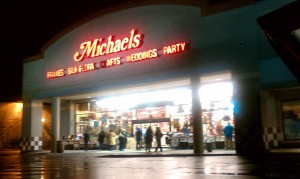 Boogles of ribbon at Michael's
I was too afraid of the crazy crafters to even go in to Michael's, so Angela braved it alone against the 6 other people who were in line at opening. It's okay because I had to defend our loot against the ferocious mice who wanted our movies. We got a bunch of ribbon at 78% off.
A casual stroll at Old Navy
Since we went to Old Navy hours after they opened, it was pretty empty. We bought jeans, pajama pants, and camis for 50-80% off. Piece of cake.
Quick freebie at Half Price Books
As we do every year, we line up at Half Price Books and they gave us each a $5 gift card. We didn't bother to look at the books since we can use the gift cards another day, and we have much more important things to do!
Winding down at Jo-Ann
By 7am, everything was starting to die down. We went to Jo-Ann to get a spatula at 50% off and a gingerbread house making kit.
After Jo-Ann, we were pretty tired and were done for the day. We headed home and went straight to sleep. When we woke up, I noticed people were posting on Facebook about their shopping. WHAT!?!? People are still out there!? We had to get in some more deals, so we decided to do food.
Finishing off the day with Baja Fresh and Slurpees
We got a buy one, get one free deal at Baja Fresh. Woohoo! I love burritos! $7 for two big burritos and all the chips and salsa we could want. Then we headed over to 7-11 to get free Slurpees.