Jon and I have decided to be a bit more adventurous when it comes to home-cooked meals.  It turns out that there's a lot of different foods out there and deciding what to try first is really tough.  The approach we've decided to take is to take an untried spice and use it to cook a few meals during the month.
Our first candidate was caraway!  To be honest, when we started out I had no idea what caraway was, but now that we've tried it will definitely be folded into our meal plans.  Here's what we made with it:
Pumpernickel bread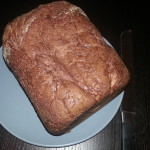 We just placed the following in the bread maker to make this yummy dark bread.  It ends up with a little kick of its own because of the molasses and caraway.  The picture really doesn't do it justice.  It tastes a lot like the dark bread you get at the Cheesecake Factory:
1 1/8 C warm water
1 1/2 T veggie oil
1/3 C molasses
3 T cocoa
1 T caraway
1 1/2 tsp salt
1 1/2 C bread flour
1/2 C oats
1 1/2 C whole wheat flour
2 1/2 tsp yeast
Honey Butter
The bread tasted great with honey butter.  Then again, is there anything on the planet that doesn't taste good with it?  Just mix these up.
1/2 C butter softened
1/3 honey
Kielbasa and Cabbage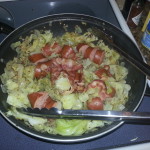 We got extra points for this one because we've never eaten caraway or kielbasa.  This was amazingly easy to make.
http://allrecipes.com/recipe/kielbasa-and-cabbage/detail.aspx
Okara Hummus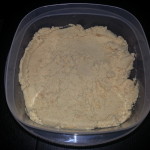 Since I discovered homemade soy milk over the holidays I have been in a constant search for ways to use our okara. If you add okara to pretty much anything I'll love it, but Jon hasn't been as loyal.  After a couple experiments, I think we've found a perfect fit!  Hummus!  If you like hummus and are trying to use your okara, okara hummus will be like a bit of heaven for you and it's also easy to make.  Just blend up the following:
Okara left from one batch of soy milk (about 1 to 2 cups)
1 can of garbanzo beans
1/3 C tahini (sesame seed paste) or peanut butter
1/4 C lemon juice
1 tsp salt
2 cloves garlic
1 T olive oil
I prefer the peanut butter to the tahini by a landslide and it's much cheaper, but it does give it a peanuty taste.  We like ours with more kick so we add extra garlic, paprika and cayenne pepper too.
Well, this is the first leg of our cooking adventure.  On to the next spice!