We had originally budgeted three days for Lucap and Hundred Islands, but after the first day we decided that we had seen everything we wanted to see there. We were exhausted from the dry ocean heat and I got tired of so many people trying to get our money. We stayed for the night but then checked out the next day. On to new adventures!
We rushed to leave Lucap because we wanted to get to Manila early and avoid another Baguio-like fiasco. Our plan was to get on an air con bus to get us there quick, and find a hotel using our cell phones on the way there (after all, we'd have six hours). We hopped on a tryke and had him take us to the Victory Liner terminal. The tryke driver said there were no more Victory Liners leaving for Pasay (Manila area), but we could go to the Five Star bus terminal. Looking back, I think he was lying. We should have just stuck with the Victory Liner. When we got to the Five Star terminal, I asked one of the workers if the bus has wifi. They responded that it does indeed and that it's leaving in a couple minutes. Everything was going great. Our bus left the terminal, but we couldn't connect to the wifi. I asked a conductor and he said that none of their buses have wifi. Wha??? Okay, plan B. We brought a smartphone and set it up with a carrier when we first got into the country. We pulled it out and tried to get data connections the entire bus ride, but it never worked. We found out later that the cell phone was never even configured to access data networks even though the agent said it was all set.
So our dilemma was this: we had no idea where the bus would stop, what hotels were nearby, and we had no way of finding out. We decided that the bus would stop at a terminal and there might be wifi there, so we'd just wait until the bus got there. It turns out there was no terminal. The bus dropped us off at the side of the freeway. We had our two huge suitcases, it was already dark, there were lots of people walking around, we had no internet connection, and we had no idea where we were. We were in the rough part of Manila and totally thought we were going to get mugged. We walked a few blocks and finally stopped in to a hotel called Hotel SOGO. I asked them if we could use their wifi, but they said we could only use it if we got a room there. Rather than go back out to try to find another hotel or internet cafe we decided to spend the night.
They gave us a number, so we had to wait in the lobby for a few minutes. They had dozens of booths that you could wait in. I remember thinking it was odd but not pinpointing why. They called our number and we told them we wanted a standard room. They asked us how many hours we wanted and I told them we wanted one day. They looked at us funny when we said that. The lobby area was separated from the rooms by a door that was always locked. Only employees could unlock the door to let you in or out. You can't leave without giving up your key first. The room was clean but wasn't very comfortable. The air was musky and the lingering smell of cigarette smoke bothered my eyes. The room was small, didn't have any windows, and had a red light above the bed. The majority of the TV channels were "adult" channels; and by "adult" I'm not talking about the evening news.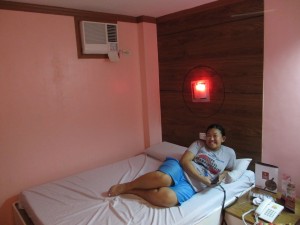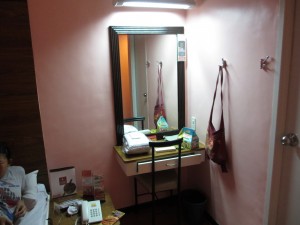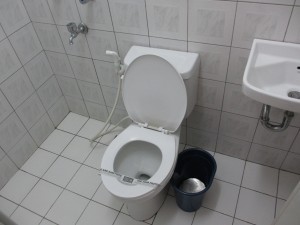 After staying the night at SOGO, we used the wifi to find some reviews of nearby hotels. We decided on Mabuhay Manor and set out first thing in the morning. We were looking for a taxi, but a really persistent guy kept hounding us to take his pedicab. I didn't want to, but didn't know how to get rid of him since we were lugging our huge suitcases. So we agreed on a price and loaded up. Then one of the guys said there was a service fee for loading our luggage. I hate when they do that so I got off immediately and said that we were going to walk. They took it back right away and said there was no service fee. That ride was painfully slow–we must have added about 500 lbs of weight.
When we finally arrived at Mabuhay Manor, it was a great relief. The entire environment was comfortable, and the staff was very courteous. Apparently this hotel is catered to Filipinos who've left the country and come back to visit. We saw lots of Filipinas and their American husbands there. When we went to get our room, we were disappointed that the rate they wanted to give us was about 1500 pesos ($30) more than their online reservation system. I pointed that out and asked if they could match the online price. They said it was an online-only rate, but if we wanted to we could use their wifi to book it. Wow! That was amazing service that they let us use THEIR internet to pay them less. The room was spacious and our whole stay there was very comfortable.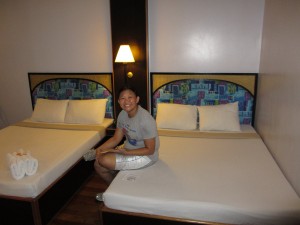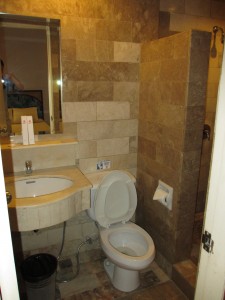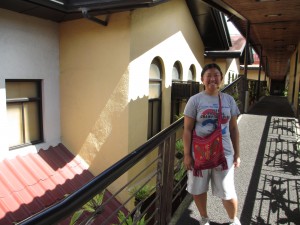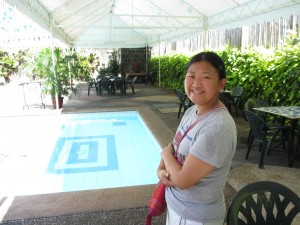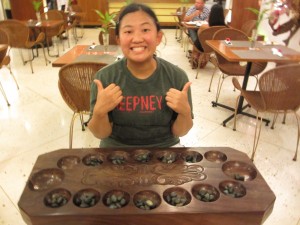 The breakfast at Mabuhay Manor wasn't particularly delicious, but it wasn't bad either. It was all presented pretty nicely.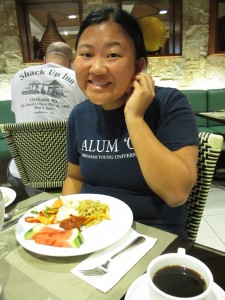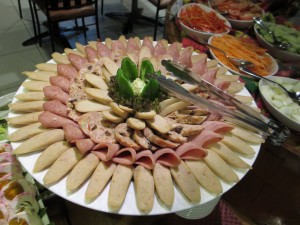 During the daytime we felt safe walking around Pasay. It was still a little rough, but not too bad.