When I was on my mission, I was assigned in Baguio City for six months. I spent mornings working in the mission office, where I entered stats, ran reports, and helped with computers. The house I lived in was across the street from the mission office and mission home. On our vacation we visited these places and things have REALLY changed!
None of the three buildings are being used by the mission any more. In fact, the house I lived in was knocked down and there is a big condominium complex for the Korean English students there now. I'm bummed that I didn't get any pictures taken from the same angle as pictures I took on my mission, but you can still see some of the differences.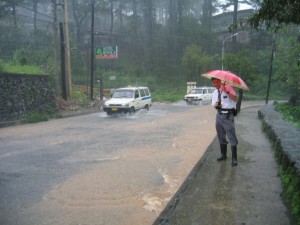 See that green sign in the background in the previous picture? This is what's there now: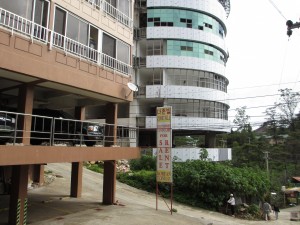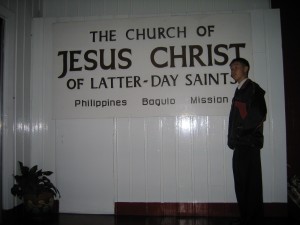 See the wall in the previous picture? Now it's all colored green and red: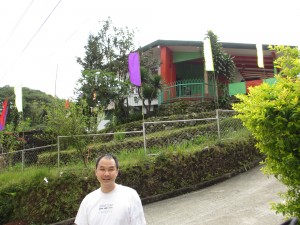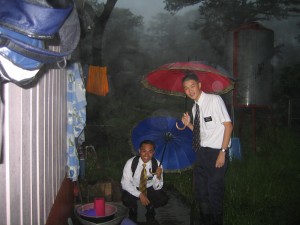 The previous picture was taken during a typhoon in 2004. This is what's there now: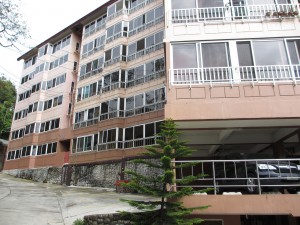 So yea. Things have really changed since I was there. Session Road (a main road where all the cool stuff is) had one KFC and two McDonald's (McDonald'ss?) when I was there. Now there were three KFCs and more McDonald's than I could count.
Bonus!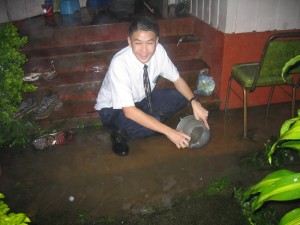 I saw some pictures from my mission that I wanted to share stories about. There were a couple pictures in this post where it was raining. That was during a typhoon. The typhoon lasted about four weeks. It rained so hard that we lost running water for the entire four weeks. As is common when it rains, we also lost power (which we didn't get back until three weeks later). Additionally by total unlucky coincidence we ran out of gas that we used for cooking, and we couldn't get that back for two weeks. All of these overlapped, so there were two full weeks where we were completely without any utilities. Obviously we ended up okay, but we had to do some crazy stuff like wash our pots in the gutter (pictured to the right). We put a bucket outside to collect rain water to shower with. We ate lots of cold ramen. Our house was so cold that the warmest place in the house was inside the refrigerator.
In 2005 there was a SARS scare in Asia. A lot of people were wearing masks, so I took a picture with some of them: