We wished we had stayed longer in San Quintin, but early the next morning we set out for the Hundred Islands National Park.  One of the branch members took us on his tryke to catch a bus heading to Dagupan.  From there we took another bus to Alaminos and one more tryke to Lucap, which is a water side town outside of the entrance to the park.  Here's a video of us riding the bus to Dagupan.  I blogged about riding the bus a little bit before.  It was actually very relaxing.  Most of the scenery was filled with rice fields and farms, but occasionally we'd pass by a little town with store fronts.  Along the highway we saw over a dozen LDS chapels too, which surprised us.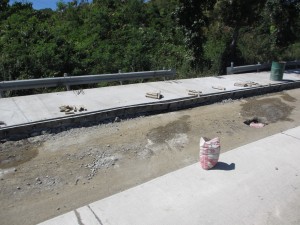 Lucap is a small town consisting mostly of hotels.  We didn't have a hotel booked, but we had read online about the Island Tropic Hotel and it seemed like it was in good shape.  Jon checked out the room before deciding to stay. After he gave his thumbs up we started settling in.  It was quickly apparent that tourism is the main industry in Lucap.  Most of the men seemed to make a living driving boats out to the park with tourists. The women and young girls sold souvenirs.  We decided to grab some lunch before we headed out and we were bombarded by bangkas drivers who didn't have any passengers for the day.  They followed us down the road as we walked trying to get us to ride with them.  It actually made us pretty uncomfortable.  We still managed to have a really yummy lunch which consisted of beef with okra ulam and rice.
Once our bellies were full we decided it was time to go see the islands.  The official entrance to the park was only a few hundred feet away so we walked there and found out that the bangkas drivers are only supposed to pick up passengers that or registered with the office. We learned that those other drivers that were trying get us to ride with them out on the street are illegal. They are not registered and haven't passed a safety inspection.  We're glad we went to the office first! Also, we read in the guide book that you shouldn't pay your driver before your trip is done–otherwise they'll abandon you on an island. We think that's what happens if you go with the illegal drivers!
The drivers assigned to us was a father-son team, and both were named Jason.  Their boat was also called The Jason.  Jason Sr. was in charge of steering the boat and running the motor.  His son was in charge of guiding the boat in when we anchored, tying the boat down and push us out when we set off again.  They speak a different language in Alaminos, but Jon was still able to get by with Tagalog.  Jason and his son were great guides.  The national park is filled with little islands, most of them are just rock and vegetation, but a few have beachy shores where people can stop and enjoy.  We went during high tide though, so much of the beach was underwater.  The first island we visited had a great view!  We had to walk up over a hundred steps to get there, but it was well worth the effort.  The second island we visited had an enclosed area for giant clams that you could look at.  Out in the open water you could snorkel and see fish and clams too.  We didn't break out the snorkels, but even from the shore we were able to see some fish and other creatures.  The next island that we visited was called Children's Island, we explored a little, but didn't find much.  A lot of Filipino families come to the park to camp over night so there were camp sites and cooking areas set up.  The last island that we visited had this awesome cave on it.  It lighting made it really pretty, but since it was fairly dark we couldn't get good photos.  After our trip was done, Jason and Jason brought us right up to the shore next to our hotel.
Right when we got off the boat little girls selling shells and magnets approached us trying to get us to buy souvenirs.  One girl was really assertive and even followed us to the hallway leading to our hotel room.  Jon told her that we'd need time to think about it and she said she'd wait right there for us.  I was a little relieved to find out that she wasn't still waiting outside when we left later for dinner.  She was there in the morning though when we woke up and tried to find some brunch.  Jon really liked her entrepreneurial spirit and decided we should buy our souvenirs from her.  She looked really young, but she was actually 16 and her name was Lucena.  Jon started asking her about her business.  She told him how much her inventory cost and how much she was selling things for. The shells we bought from her cost her 90 pesos but she only asked for 100 pesos and Jon negotiated down further to 95 pesos. That's a 5% margin!  Jon gave her some business advice about selling things nobody else was selling so that she could charge higher prices and make more money.  We were really glad to have met her and hope she does well.  We were also approached by a woman selling t-shirts out of her mini-cab.  I fell in love with a fish patterned shirt, but we decided we might be able to find a better price so we walked the entire town searching for it.  The search eventually led us back to the park entrance where we found a carenderia (street restaurant) that sold dishes at a much more reasonable price.   We saw these all over the country–they're basically a stand where the owner displays lots and lots of pots full of different types of food.  You select what you want and pay per dish.  The food was really good and this is where I discovered one of my new favorite foods!  Calamansi limes!  They have a lime/orange like taste and I absolutely fell in love with them!  Jon also remembered that bottled soda would be much cheaper than canned soda because the bottles are returned to the soda company and refilled.  In the end our fish shirt search was fruitless so we happily bought a different one from the mini-cab vendor.