One of the most exciting and challenging parts of our trip was figuring out how to get around.  We tried so many different types of transportation we thought we'd devote a post it:
Jeepney
Jeepneys were originally introduced into the country after a bunch of US military jeeps were left behind after WWII.  These days they're the main transportation method for medium-length trips.  Drivers deck out their jeeps with all sorts of crazy colors and decorations; pretty much every one is unique.  They're sort of like buses because you pay per person (8P or 20 cents/ride) and they have a particular route (or at least a main set of landmarks) that they go near.  They're definitely not like a bus in the sense that there aren't really any stops, if you see a jeepney going to your destination you just hop on (often times when it's still moving) and if you feel like you're close to where you want to be you just get off (once again often when it's still moving).  Every time we rode we were lucky to have seats far inside the jeep, so we didn't have to worry too much about holding on or falling out.  If you get on and it's too full you usually have to stand outside of the jeep on the railing and hold on tight!  Another thing that amazed me about the jeeps is that the driver is able to keep track of the fare and change needed for each passenger while navigating the crazy traffic at the same time.
Tryke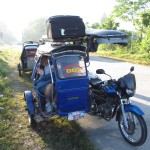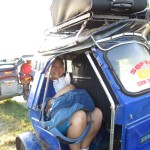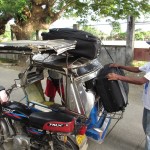 Trykes are great for rides where you have lots to carry, want to go to a direct desitination or have no idea what jeepney to take.  They're motorcycles hooked up to a covered cab.  Passengers can ride behind the driver or in the cab.  Jon always preferred the seat behind the driver (maybe because the cab was always filled up with me and our massive luggage) and it was hilarious because he's on the taller end and his feet would be nearly touching the ground the whole time.  We saw lots of trykes packed with people, sometime up to 10!  So our big luggage wasn't too much of a challenge, but it was quite a sight none the less.
Pedicab
Pedicabs (or bike trykes as I call them) are cousins to the normal tryke.  You just replace the motorcycle with a bicycle and tada, a pedicab!  We only took one of these on our trip because we felt bad about our massive luggage.  They're a little less expensive, but on the slower side too.
Taxi
Taxis were our main mode of transportation during our stay in the city since we were generally traveling a long distance or needed to get places quickly.  Your average ride ends up being under US$5.  Jon got most of his practice speaking Tagalog by haggling with taxi drivers since about 50% of the time they were trying to rip us off.  Even with the meter running, drivers would tack on mysterious "service fees" and Jon would have to berate them for lying, threaten to turn around or get out right where we were until the price was reasonable.  We did meet a few honest drivers though, which we were grateful for every time.  Most of the taxis have air conditioning which was great and we enjoyed listening to familiar songs (like Gangnam Style!) on the radio during our rides.
Bangkas
I really enjoyed all the bangkas riding we got to do, but I think it left us partially deaf for a good half hour after each ride.  All of the bangkas boats that we rode in had supports out of the side to make the ride a little smoother and a motor located near the center of the boat.  Instead of filling up the tank with gas the bangkas drivers would carry enough fuel for the trip in plastic soda bottles and fill up before we headed out.  We had some great rides and drivers in Alaminos and Tagaytay.  We'll post more about that later!
Victory Liner bus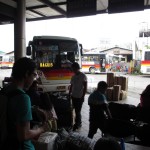 We took the Victory Liner bus from Manila to Baguio and it was great!  The bus was fully air conditioned and even had WiFi and assigned seats.  The fare for the 6 hr trip was only 500P/person ($12.50), which was really reasonable.  The bus had a direct route, meaning we got to our destination faster and didn't have to stop in every town.  Definitely recommended if you ever take a trip to the Philippines!
Non-aircon bus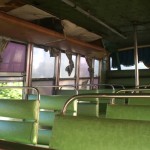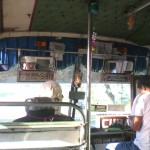 The majority of our bus rides were on non-air conditioned buses while traveling through Northern Luzon.  I found these rides really facinating because they were so different from bus rides in the US.  The bus doesn't have a route really, just a final destination and the goal of getting as many passengers as possible.  It also doesn't really have a set schedule either.  So the bus just drives in the general direction of the destination picking folks up who are going that way.  Each bus has two workers, a driver and a conductor.  The conductor had a lot to do, he found out the destination of each passenger then calculated and collected the fare for each person.  At every stop we made he was also in charge of gathering customers, mostly by standing out near the bus and shouting the destination and calling out.  He'd also help put luggage under the bus and help passengers carry any packages or luggage they had in to the bus.  It was super entertaining watching him gather up passengers.  The places we stopped seemed random to me at first, but then I realized it was at concrete waiting stations built along the highway and in town squares if we reached a city.  At every stop there were also vendors selling snacks (meriendas) to passengers.  In the city the vendors would even come onto the bus at a stop and try to sell what they had then they'd get off at the next stop and ride another bus going the opposite direction.  They had all sorts of things: buckets of peanuts they'd put into little baggies for 1P (3 cents), quail eggs, coconut pies, pork rinds and cold drinks.  I also enjoyed seeing the scenery outside the window.  It was great watching the rice fields and countryside roll by while eating our meriendas.  With the window down, not having air-con wasn't all that bad either.
20 person van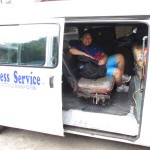 Have you ever wondered how many people can fit semi-comfortably in a minivan?  Apparently in the Philippines the magic number is 20!  We rode this awesome van from Baguio to San Quintin.  Originally, we didn't have any idea how to get there, but the hotel manager at our hotel told us about this van that leaves from behind city hall and we decided that was our best bet.  When we got out of the taxi with our huge luggage the van driver looked sort of dismayed.  They want to make the most fare per trip and our bags looked like they would take up valuable space.  They originally wanted to charge us two passengers worth of fare for the bags, but Jon talked it out with them and after squeezing and shuffling the bags we were able to fit them in one passenger's worth of space (as long as I was willing to smash up next to them and practically hug them the whole way.  We were among the first to arrive and there was a 2-year old girl in the bench behind us and she kept asking if we were ready to head out.  The van doesn't head out until it's 100% full, so we ended up waiting over an hour before we finally left.  The van had been converted so that the front seat fit three other passengers in addition to the driver.  In the back there were four more rows for four passengers each row.  Three people sit on the bench part of the seat, then a folding seat is folded down in the aisle way to fit the fourth person.  They had these U-shaped cushions that inserted in between the bench and chairs to make things a little more comfortable.  Even though there wasn't any aircon it wasn't all that bad and we were packed so tightly going down the bumpy mountain roads wasn't too bad either.  I enjoyed listening to the other passengers sing along with their music players without any embarrassment that we could all hear them and the gentle questioning of the little girl behind us.
Domestic airplane
We took four international flights to get to and from the Philippines, but our domestic flight to Bohol was a different experience all together.  We'll leave describing the airports for another post, but let's just say that the security wasn't so tight, we got to take our water bottles with us and we didn't have to take our shoes off on the way in.  In fact, they only had a metal detector and a bag scanner and that was it.  When we checked in our luggage we got our tickets for the ride and were surprised to see they were printed on receipt paper!  Good thing I didn't lose them.  Another quirky thing is that for bags you pre-pay according to weight.  We guessed pretty close when we booked the flights and didn't have to pay any fees, otherwise it's like $2/kg.  We were warned ahead of time that flights are often delayed, so we weren't too surprised when our flight was an hour late.  We were surprised when other flights to other cities left 30 minutes before their departure time though!  Things were a little less organized than we were used to.  The flights themselves were good.  They sprayed that weird humidifying mist during take off and landing which always gets me worried.  Part way through the flight we noticed that Jon was practically the only person on the airplane who was tall enough to see over the headrest too, which we got a big kick out of.
We still have a many tales to tell about the places we went, but hopefully this gives you a taste for how we got around during our adventure!