We had an uber-successful shopping season this year!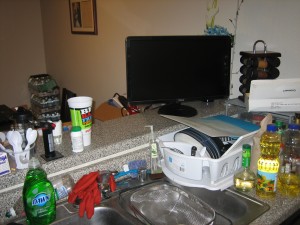 About a week ago, we found a 24″ LCD full HD monitor for $170 with free shipping on the Dell Outlet website. Thanks to Twitter, I found a $20 coupon. So we got a humongous 24″ monitor for watching movies and viewing recipes while we're cooking in the kitchen.
On Black Friday, we left for Old Navy at 2:20am. We bought 13 items including 50% off jeans. We got in the checkout line when there were four people in line and were out of the store in 20 minutes total. By the time we left the store, the checkout line had grown to about 30 people.
After Old Navy, I waited in line to get in to Target while Angela went to Kohl's (which was already open) to buy a bunch of $3 board games and sweaters. Kohl's gave us a $10 gift card for shopping there (woohoo!).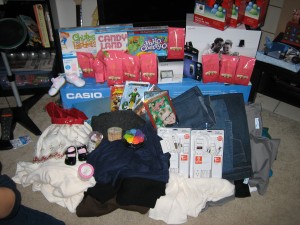 Target was the best store of the day! As evidence, the line was about 1000 people long by the time the store opened. Since we knew that perfect execution would be critical at Target, we shmoozed with an employee and got a map of the store. We also found out that we didn't have to waste time grabbing a cart at the entrance because there would be carts spread throughout the store. We planned our route and were able to beat the 50-100 people in front of us in line to the good stuff. We got one of the four piano keyboards they had stocked, a bunch of DVDs, and tons of clothes. As we were leaving the electronics area, there were swarms of shoppers like ants swarming around their kicked anthill. I wanted to snap a picture but was afraid of being trampled, so we fled screaming and clutching our prizes. Finally at checkout, they gave us a $10 gift card!
At Staples, I grabbed four $10 webcams that were normally $50. When people kept taking them, I had to try hard to resist not taking more. My heart sunk when an employee told me that they only allowed one webcam per customer. I decided to try to check out anyways and we were particularly nice to the employee. We found out that she was sick the past week and consequently missed all the Black Friday orientation meetings. And she let us buy our webcams! We also bought some other good stuff like speakers, a GPS, and 8GB USB drives.
We headed over to Half Price Books in hopes of randomly winning a $100 gift card. Unfortunately we didn't win. But they did give us $10 in gift cards.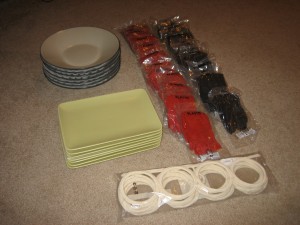 After we finished out our critical early bird steals we headed to the mall and Angela went to JCPenney while I waited in the car.  She got a bunch of $9 sweaters and Christmas gifts for the Moomers.  After that we headed to Joann's to pick a rubber stamp set for the giving tree at Angela's office.  We got all the stamps for over half off! 
Black Friday was a success! We got every item that we wanted to get that day. But wait! That's not the end of the good deals! On Saturday, we stopped by Ikea and found a hidden clearance section! We bought 14 plates for 99 cents each (normally $4.99 each). And rubber gloves for 10 cents each.
What a great year for deals!