Whoa!  It's been a while since we've blogged and boy do we have a blog entry for you!  Last week we got back from a very fun Christmas vacation!  We went to 7 states, slept on a haunted ship, were saved by a car full of Polish people and had a B2 bomber fly right over us.  Intrigued?  Read more:
Thursday, December 18
A week before Christmas Seattle had a huge snow storm.  It was supposedly the biggest storm the area has had for over 20 years and man, they weren't ready for it.  They hardly had any plows out on the road and at the time they weren't allowed to salt things down for enviornmental reasons.  The result was chaos.  The airport was shut down and there were some families that were trapped there for up to three days!  It was nearly impossible to drive (even down the street to go to work!).  The snow kept coming and coming and I think we had about 3 storms pass through before Jon and I headed out.  It was a crazy sight.          
Tuesday, December 23 
We were lucky enough to fly out on a day that was snow free.  Even though our flight was slightly delayed we arrived in Boise without any problems.  By the time we got to the Chin's it was pretty late.  Jon got some good home cooking and we called it a night.
Wednesday, December 24 (Christmas Eve!)

We woke up and headed to a chapel to play dodgeball with Jon's family.  Well…we came to play, but didn't end up playing too much.  Jon was reading Freakonomics and I was busy knitting a scarf.  It was still fun seeing everyone though.  Maybe next year we'll be better sports and I'll bring a helmet to protect myself or something.  After we got back, we headed out again to see if we could get any good before Christmas deals.  Shopping on Christmas Eve is always crazy.  Lots of people, but not much left on the shelves, haha.  During our stay in ID, I think we spent most of our time working on these cubes for church humanitarian services.  You stitch a pattern on these panels, then connect the panels to make a cube, then you put a bell inside the cube so it becomes a toy.  It was a lot of fun, Jon made this one that looks like a die! 
During the evening Jon's extended family came over and we had a little party.  It was a lot of fun.  We played games and had some great food (a lot of great food).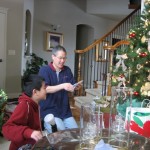 Thursday, December 25 (Christmas!!!!!)

We opened presents in the morning and we played games for a lot of the rest of the day.  Jon's brother got a Wii and Wii Fit so we spent a lot of time with that.  In the afternoon, Jon's aunt and her family came over.  We had a great dinner and just enjoyed each other's company 🙂
Friday, December 26
We spent most of this day traveling.  We went to the airport in the afternoon and flew from Boise to Salt Lake.  Our layover was only supposed to be an hour or so but we were delayed and we ended up waiting over 2 hours.  When we got to Denver, Angela's parents picked us up in their little white Metro!  Man that car is funny.  We got in pretty late so we didn't have much time.  We went over to Angela's cousin's house to chat and see everyone then we headed home.  Bo and Buffie were having a little party so we played some Rockband and had a good time.  For Christmas we got Angela's dad a blog, check it out at
www.jtchau.com
!
Saturday, December 27
We headed out for our great adventure!  Whooooo~ We took I-70 which is always beautiful during the winter.  Around 5pm we arrived in Moab, UT and we ate at the Moab Dinner, which supposedly has the best green chili in the state (or maybe it's the only place in the state with green chili at all).  We went grocery shopping for some food supplies then headed to bed.
Sunday, December 26
We drove a little way to Arches National Park.  It was really pretty with the snow cover and the sunshine.  It's completely different in the winter!  Angela's dad got us all these Yak Tracks which are basically these chain-like straps that you can strap to your shoes to help you walk in the snow.  They are great for anyone planning to hike or walk anywhere in the snow and ice!  It was like walking on normal ground almost.  We drove around the entire park and then set out to hike and see some of the individual arches.  The big hike that we took was to the double arch and some of the windows there.  It was a great view and the nice thing about winter is that the park isn't packed with people so you can have some time on your own to enjoy things.  When we walked out to the windows we decided it might be fun to take this "primitive" trail.  Man…primitive was an understatement.  With the snow and ice it was nearly impossible to see where the trail was.  Part of the trail was even up the side of this rock face and we literally had to climb up the rock to continue the trail.  Even though it was hard it was pretty fun.  After we finished at the park, we headed back to Moab to attend a Sacrament meeting then headed out again.  We drove to Capital Reef and had a little mini adventure there.  The roads there were covered in snow and there was only enough room for about 1 1/2 lanes of traffic so we were leaning right in case someone was driving on the road coming from the other direction.  Well…we eventually drove into the mountain…and a big draft of snow.  We tried to push the car out without much luck.  There was another couple down the road that was also stuck (but not in the snow, they were stuck because their car was dead) and they came down to help us.  The eventually had to leave because they hitched a ride back to the ranger station.  We pushed and pushed and got no where.  Then a car of Polish tourists stopped to help us.  One of them jumped into the driver seat and just drove out.  He moved the wheel back and forth to get the best traction I guess.  It was pretty amazing.  We called it quits on Capital Reed after that and drove off to Bryce Canyon.  Once we got to Bryce Canyon we checked into Ruby Inn, which was the first hotel in the area ever to open.  That hotel was great, it had a real lodge feel to it, a resturant, general store, some shops and a gift shop.  It was great.
Monday, December 27
We headed out nice and early to see Bryce Canyon.  Man, it was spectacular in the snow!  The hiking wasn't too strenuous even though there was a lot of snow (thank you Yak Tracks!).  I loved seeing all the hoodoos and all the scenery in the snow it was like a litlte silent city.  We drove through the whole park and hiked to some of the points, like the point that lets you see the Grottos and a great 360 view.  We also hiked from Sunset Point to Sunrise Point, which was nice.  It was great!  What an experience!  We loaded up again and headed to Zion National Park.  The drive through the park was really nice, they've got this nice tunnel with little holes that you can see down the canyon.  It was beautiful.  The only hike we did there was to the lower Emerald Pool.  It was a great sight when we got to the end of the trail, but the real treat was watching a group of deer cross the river as we walked backed to the car.  They were leaping across the water and it was just really pretty.  After that we headed to Las Vegas!  We got to the strip and stood in line with Angela's Mom at the Paris hotel for their French buffet while the rest of the troops headed to the time share to put our stuff away.  Ah, there's nothing like Vegas.  It was really busy, with lots of people on vacation there.  The buffet was alright, but it wasn't worth the 1 1/2 hour wait!  After dinner we walked around the strip for a while.  We checked out the Bellagio fountain show (of course) and walked down to the new Wynn hotel to see this really weird laser show there.  The Wynn is one of the newest hotels and it's set up for high rollers.  It's pretty nice!  After the show was over we headed to the time share pretty much exhausted.  The time share was pretty nice.  Not too far from the strip and there were seperate rooms and nice furniture set up!
Tuesday, December 28
For brunch we headed over to Chinatown to catch some dim sum.  There was also a Filipino resturant there so Jon got to get some good Filipino food there.  After we that some of headed back to the strip to check out some things.  We first went to the M&M Factory then we walked to see the lions at the MGM.  At the Bellagio we stopped to see the world's largest chocolate fountain and got some of the best little pasteries!    We loaded up and headed to the Las Vegas temple.  After that we hit the road again, heading to CA.  It was a strange sight, seeing all the cars streaming into Vegas from California as we were leaving.  Most of them were heading there for New Years.  Once we got to California we met up with Angela's cousin at this Mongolian hot pot resturant.  It's supposedly the first Chinese food chain to open up in the US.  They had this spicy soup where you could pick from 1-10 to pick the level of spice.  We picked a 1, but I swear they gave us at least a 4 or something.  After dinner we headed to our hotel for the night!  The spooky haunted Queen Mary!  It's this old ship that's been converted to a hotel and  it's supposed to be one of the most haunted places in the world. OOOOO~  I have to admit I was pretty scared on the way there, but by the time we got there I was too tired to be scared, haha.  The rooms were still in an old style, which was cool.  The boat was surrounded in this fog, which just added to its scary vibe.
Wednesday, December 29 (New Years Eve)
In the morning we toured the ship!  That's a huge ship!  The Queen Mary was a British cruiseline ship that was converted to a military transit ship during WW2.  After the war finished it was converted back to a civilian ship and was eventually bought by Long Beach for a tourist attraction.  The boat was pretty impressive and it was great seeing the engine room and all parts of the boat.  After we checked out we headed to the Getty museum, it was packed.  It's really worth seeing if you're ever in the LA area.  It's a free museum (all you pay is for parking) and they've always got great exhibits and it's worth going just to see the architecture.  They've got several gardens and outdoor sculptures and it's just great to see.  We had an In-and-Out lunch and headed to the Getty Villa.  The Villa was absolutely amazing!  It's a Villa that's been made based on a Villa that existed in Pompei and it's the location for all of the Getty's ancient artwork.  If you never get a chance to go to Rome this is as good a replacement as you'll ever get in the US.  It was fabulous!  We ate dinner at this Taiwanese noodle shop, it was pretty good.  They had these spicy noodles that Jon loved.  After that we headed out to the parade route to see the people waiting and things.  It was pretty rowdy and our car got pegged with marshmellows and shaving cream.  It wasn't that fun, but I guess it was a learning experience.  The hotel served hot dogs and burgers because it was New Years Eve (I thought that was cool). 
Thursday, January 1       
We headed out really early to get a good spot at the parade!  We didn't have to wait there all night to get a really good spot.  In fact the spot we had was sort of better than some of the people who waited all night in the cold.  The floats were great.  The great thing about the Rose parade is the flowers obviously!  They had the B2 bomber do a fly over like they do every year and this year they had jets writing words in the sky.  The parade was a lot of fun!  After the parade we packed up all our luggage and headed to take a look at Pepperdine University.  Angela's family dropped us off at the airport and we checked in and met up with one of Jon's friends from PBL.  We went to eat at this open-air resturant near the beach.  We flew back on Virgin air.  They had these weird blue and purple lights on the whole flight.  Everything was so white and rounded I felt like I was inside a Mac, haha.
Well that was our vacation 😀  We've got millions more photos!  Ask us to show them to you next time we see you!~